Alexander Valley Vineyards Cyrus 2007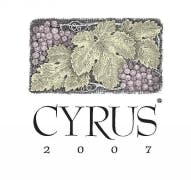 The 2007 growing season began early, stalled midway due to cool weather and finished late. Some of our Cabernet had poor fruit set, resulting in more concentration from smaller berries and smaller clusters. Winemaker Kevin Hall barrel aged each lot separately, then selected seven distinctive lots for CYRUS: 3 lots of Cabernet Sauvignon with exceptional concentration, purity & lush texture, two lots of Cabernet Franc with finesse & depth and one lot each of Merlot & Petit Verdot for vivid color and richness. After blending, the wine was aged for 12 months in French oak to meld the flavors. Once bottled the wine was aged for an additional 14 months to develop into a seamless blend. CYRUS - The First Growth of Sonoma, showcases the best of the region and the best of the vintage!
Wine EnthusiastA deliciously easy wine to drink now. Based on Cabernet Sauvignon, it's rich and spicy in cherry and blackberry jam, chocolate, red currant and cedar flavors, with soft tannins and an herbaceous taste of the earth. As sweet as the fruit is, the wine finishes totally dry.